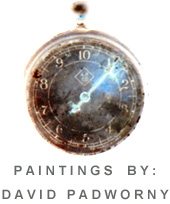 A Series | N Series | T Series | B Series
The sculptures and assemblages below are selected works from the A Series, T Series and N Series.
Please click on the thumbnail image to view full resolution images. For a complete listing of
the works in each series, please click on the respective Series links above.



REMORSE
clay, acrylic paint, Damar varnish,
acquired eating utensils,
stained and varnished wood of
16 by 20 by 5 in.



ARTIFCACT
Wood, glass and mirror vitrine,
cast resin, garnet, sand, acrylic,
enamel of 9 by 13 1/2 by
8 1/2 in., 2009



MARISSA
Oil on Stretched canvas with
Plaster Sculpture of 9 by12 by
circa 4.5 in. 2008




UNTITLED
Oil Paint, Fabric, Plaster, Acrylic
Paint and Polymer on
Stretched Canvases of
18 by 12 by 3/4 in. (two separate canvases of 9 by 12 in.), 2008
| Home | Photo Journal | Sculptures | Drawings | Paintings | Mailing List |Online Gallery | Contact |